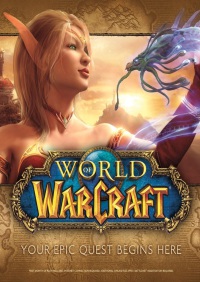 World of Warcraft
Platform:

PC, Battle.net


Account Region:

Europe (South Africa Included)


Type:

Game Key



Delivery:

Digital / Email
(Instant Delivery Available)


Availability:

Not Available


Age Rating:

13V


Rewards:

Earn up to

16 Loyalty Points
Note: Only one copy of World of Warcraft (Battle Chest) can be activated per Battle.net account.
The Battle Chest pack includes everything you need to begin your adventure in World of Warcraft, including the base game, 30 days game time, as well as the blockbuster expansion sets The Burning Crusade, Wrath of the Lich King, Cataclysm, Mists of Pandaria and Warlords of Draenor!
Descend into the World of Warcraft and join thousands of mighty heroes in an online world of myth, magic, and limitless adventure. Explore jagged, snowy peaks; vast mountain fortresses; and harsh, winding canyons. Witness zeppelins flying over smoldering battlefields; battle in epic sieges – a host of legendary experiences await.